AHOY FELLOW SAILORS AND WELCOME TO THE 56th SUMMERSET REGATTA!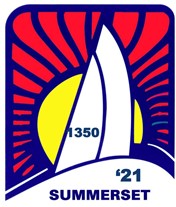 CMCS is pleased to host the 56th Summerset Regatta for the sailors of SW Florida.  The net proceeds from the event will go toward Youth Sailing Programs in our respective areas.  We pray to the weather Gods to be kind to us and provide just enough wind to make it a fun event for participants and observers alike.
The Summerset Regatta is only as successful as the folks who are willing to participate!   We elected to return to our traditional schedule of events each evening for the racers, crews, and cruisers.  We've made some changes that we hope will help make it easier for everyone to have a great time on, and off, the water.
Cruisers and guests are welcome and encouraged to participate with all the events, AND, there is no separate fee for their participation.  All the events are open to everyone with  "Ala Carte" pricing.  Pay-as-you-go if you will.   Please note,  the Lou Tilley Distance Race has been removed from this year's Summerset race schedule as we feel this race deserves its own separate event.
Once again, Bonita Bill's is our host venue for the Skippers Meeting on Friday the 1st of October with a slight change in our menu ~ complementary "Wings and Fixin's" with the ever-flowing beer Keg.  Our other events are being held at the Original Shrimp Dock at Salty Sam's Marina Resort.  Saturday following a full day of racing, a Lite meal will be served. We'll tap the Keg at 1800 hrs.  We're doing things  "Ala Carte" with a cost of $20 per participant.  Music by Dueling Pianos for everyone's enjoyment.  Time to share all those "Sea Tales"!
The Sunday  "Summerset Chowder Awards"  event is at the same location with CHOWDER and Fixin's (hence the name ~ Caloosahatchee Marching & Chowder Society)  at a cost of $10 each.  We want everyone to celebrate their victories and adventures, so priced accordingly to make it possible for the Skippers and their crews to participate in the celebration.
So, sign up and plan to enjoy a great weekend of sailing comradery with the sailors of SW Florida for the 56th Annual Summerset Regatta!
Fair winds & Calm Seas,
Bev Duff, Vice Commodore of Summerset
& the 2021 Summerset Committee
THANK YOU FOR BEING AN IMPORTANT PART OF THE 56th SUMMERSET REGATTA