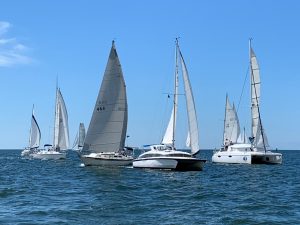 What a great weekend with fantastic weather and a terrific turnout for the 54th annual Summerset Regatta! 53 boats participated, either racing or cruising throughout the weekend of October 4-6. Hundreds of sailors celebrated together at the Friday Captain's Party at Bonita Bill's, the Saturday Cocktail Party at Nauti Parrot and the Sunday Awards Banquet at the Original Shrimp Dock, all on Fort Myers Beach.
Wind and weather conditions were favorable allowing for three buoy courses on Saturday and a coastal distance race on Sunday. With boats divided into six classes, the race committee aboard James Gallagher's Calusa successfully ran 17 starts in two days. The competition was terrific and congratulations to all the captains and crew who proved their skills!
Most Summerset participants hail from the Fort Myers, Cape Coral, Punta Gorda, or Naples/Marco areas and are members of respective local sailing clubs. The Summerset Regatta is hosted annually by the CMCS (Caloosahatchee Marching and Chowder Society) which meets monthly in Cape Coral and organizes at least one race and cruise each month in Southwest Florida. CMCS will be celebrating it's 50th anniversary in 2020.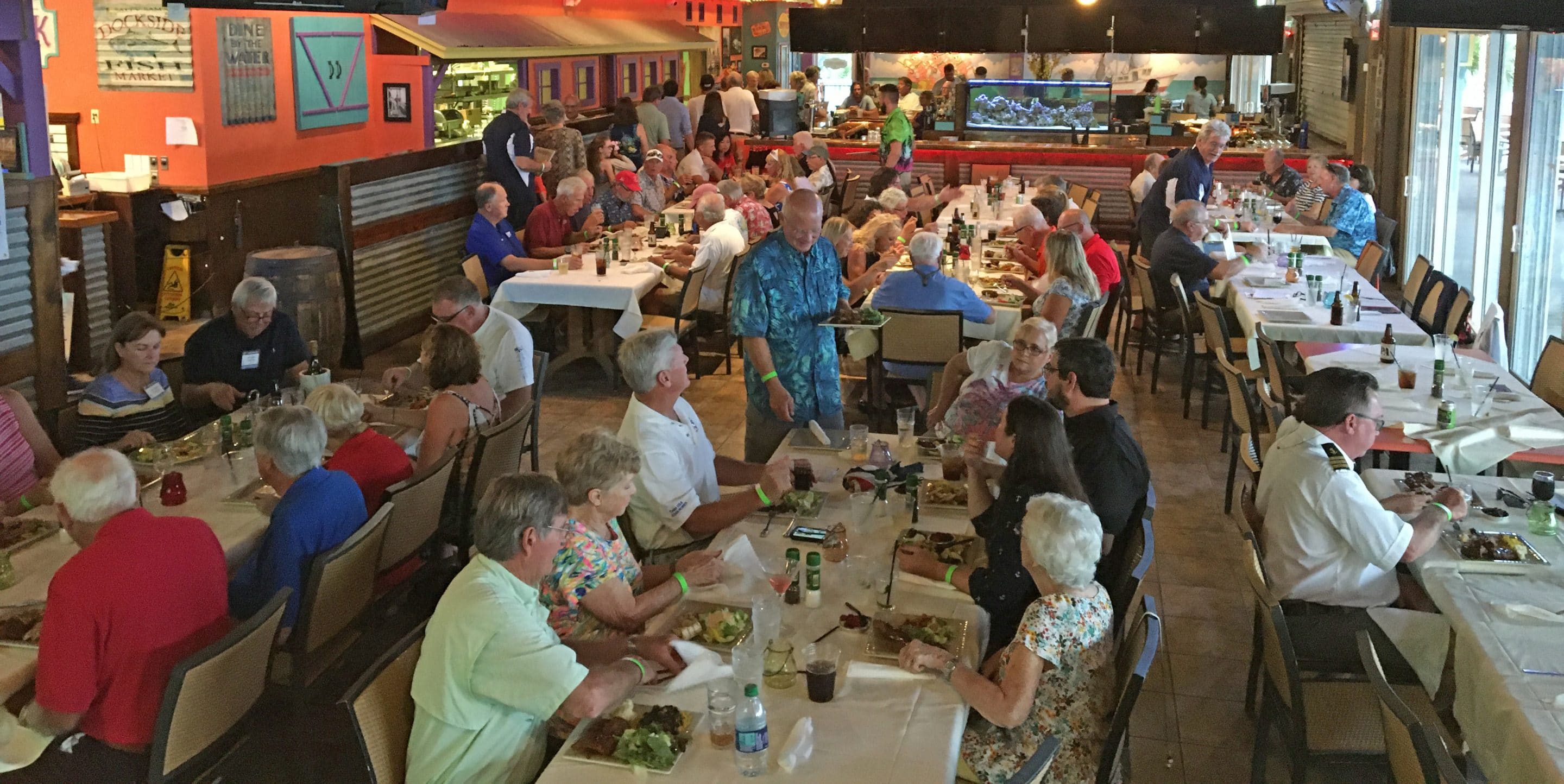 Presenting sponsors included Offshore Sailing School, Marine Trading Post and Rice Windows and Doors, with over 40 other businesses helping make the Regatta a success. Proceeds from the Summerset Regatta go towards youth sailing initiatives, including grants and scholarships for students at the non-profit Edison Sailing Center and Ostego Bay Foundation.
Regatta organizers Allen Fiske, Steve Romaine and James Gallagher would like to thank their committee members, each and every volunteer, the local sponsors and all participants for making 2019 one of the most successful and memorable editions of the Summerset in 54 years!
Spinnaker
1st – Obsession – Gary Schwarting
2nd – T-Bone – Jason Richards
3rd – Full Tilt – Eric Milbrandt
Non-Spinnaker A
1st – Fancy Free – Geral Poquette
2nd – Mae-B – Frank Brown
3rd – Eroica – Tom Horner
Non-Spinnaker B
1st – Essence – Paul McDill
2nd – Radiant – Arthur Schuller
3rd – Moki – Glenn McDill
True Cruising A
1st – Serendipity – Mike Busher
2nd – Castaways – John Finnegan
3rd – Windy City – Diane Fowler
True Cruising B
1st – Laura Li – Arnie Pfalz
2nd – Sail La Vie – Mark Beauvois
3rd – Karma – Joe Martinez
Sunday Pursuit Race
1st – Mae-B – Frank Brown
2nd – Vagabond – Daniel Spence
3rd – Essence – Paul McDill
Sunday Lou Tilley Classic Race
1st – Tranquility – Lee Reeves
2nd – Gopher Baroque – Jason Pim
3rd – Jazzy – Gary Blessing
Complete / Official Scoring Documents