55th Annual
Summerset Regatta
October 2-4, 2020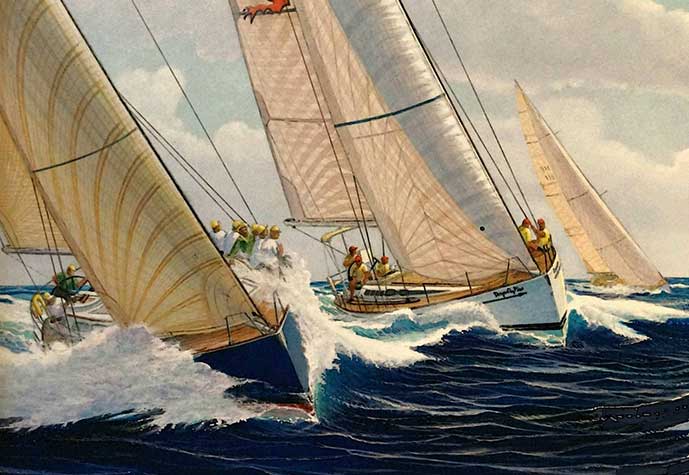 "Sail the Tradition"
at Fort Myers Beach
This year CMCS is proud to present the 55th annual Summerset Regatta on the weekend of October 2nd, 3rd and 4th, 2020.
In 1965, a few adventurous sailors placed a classified ad in the local newspapers looking for "Anyone interested in racing sailboats from Fort Myers Beach to Naples". That first race led to an annual event that sailors in Southwest Florida look forward to each year – known as the Summerset Regatta. This was also the genesis of the racing program for Caloosahatchee Marching and Chowder Society (CMCS), now in our 50th year of operation. Today, sailors from Charlotte Harbor to Marco join in the fun of racing and cruising. Yachts race in Saturday's buoy races and Sunday's distance race(s) in the Gulf of Mexico near Fort Myers Beach.
A Weekend Full of Fun 
October 4th, 5th, and 6th
What: Skipper's & Crew Meeting
When: Friday, October 4th at 1830 Sponsors: Bonita Bill's Waterfront Cafe, Little Caesars Pizza and Gulf Marine Ways & Supply.
Where: Bonita Bill's Waterfront Cafe, 702 Fisherman's Wharf, San Carlos Island, FL Details: Complimentary beer, soft drinks and pizza. All participants are welcome.
What:
Cocktail Party
When:
Saturday, October 5th, at 1800 hrs
Sponsors:
Nauti Parrot, Trico Shrimp and Erickson & Jensen
Where:
Nauti Parrot Dock Bar, 19001 San Carlos Blvd, Fort Myers Beach,FL
Details:
Complimentary Beer and Hors d'oeuvres. Cash Bar. Post-Race party begins at 1800 hrs. Two complimentary tickets are included with your registration. Additional tickets are $5 each. Additional tickets may be obtained here –>
Participant Purchases
, or may be purchased at the door for $5.00/person. Cocktail Party tickets will be collected at the door.
What: Cruisers Coastal Race (non-BOTY)
When: Sunday, October 6th, first warning at 0930 hrs
Sponsor: Marine Trading Post
Where: in the Gulf of Mexico off of Fort Myers Beach in the vicinity of San Carlos Light
Details: optional for boats registered as Summerset Cruisers; some people call this a "day sail with a bunch of your cruising friends".

What: Dinner and Awards Ceremony
When: Sunday, October 6th, cash bar opens at 1730 hrs
Sponsors: Scanlon Auto Group, and SW Florida Marine Industry Association & Waterstone Financial
Where: Parrot Key, 2500 Main St, Fort Myers Beach, FL 33931 (located just East of Salty Sam's Marina)
Details:
$25 per person
Cash Bar will be open at 1730 hrs
Buffet dinner will be served at approximately 1915 hrs
Awards will be presented after dinner (approximately 2000 hrs)
Appropriate casual dinner attire required
No dinner reservations accepted after October 4th
Dinner wristbands are required to dine, and must be ordered in advance
Wristbands will be sold at the Friday skippers meeting but NOT at the Saturday cocktail party, or at the door Sunday
Raffle Prize winners, racer and cruiser awards, and the "Fort Gorda" Cup will be presented